2023 Camps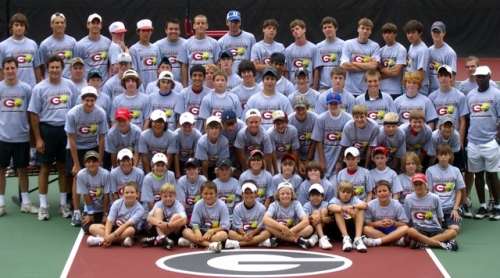 TUITION INCLUDES:
Room and Board, all instruction, Accident Insurance, tournament matches,lectures, Red versus Black team dual meet, camp T-shirt, camp certificate and written evaluation.
ACTIVITIES:
In addition to instruction, court drills and match play, campers will receive daily lectures on fitness and conditioning, nutrition, mental preparation and composure, rules of the game, strategy, and sportsmanship. Also, evening camp activities like movie night, softball game night, camp singles tournament, camp doubles tournament and Red versus Black dual match. All activities are supervised by our camp staff. Safety is our primary concern.
ACCOMMODATIONS:
The campers will be hosted at one of our air-conditioned dormitories just a few minutes away from the courts. Dining facilities are adjacent to the dormitories and will provide healthy, well-balanced meals. The camp will be strictly monitored. Campers should not stray unsupervised at any time. Campers who are old enough to drive will not be allowed to drive their automobiles once they check in.
AWARDS CEREMONIES:
Parents and friends are invited to our closing ceremonies. Campers will receive certificates and tournament winners get awards during closing ceremonies, which will be held Thursday at 11:00 am.
DAY CAMP:
Day campers report every morning at 8:50. Lunch will be included daily, but dinners are not.
TENTATIVE SCHEDULES
OVERNIGHT CAMPER SCHEDULE
(all times are approximate)
7:15 am Wake up/Breakfast
9-12 noon Instruction/Drills/Conditioning
12 noon Lunch (included in camp fees)
12:45-1:40 pm Rest time in dorm with other campers
2-5:00 pm Tennis Instruction
5:15 pm Dinner (included in camp fees)
5:40 to 6:40 pm Rest time at dorm with other campers
7-8:30 pm Tennis or special event(softball game/movie/game room)
8:30 pm Back to dorm
10:30 pm Lights out
EXTENDED DAY CAMPER SCHEDULE
(all times are approximate)
8:45 am Arrive at tennis courts
9-12 noon Instruction/Drills/Conditioning
12 noon Lunch (included in camp fees)
12:45-1:40 pm Rest time in dorm with other campers
2-5:00 pm Tennis Instruction
5:15 pm Dinner
5:40 to 6:40 pm Rest time at dorm with other campers
7-8:30 pm Tennis or special event(softball game/movie/game room)
8:30 pm Parents pick up campers at courts or dormitory
DAY CAMPER SCHEDULE
(all times are approximate)
8:45 am Arrive at tennis courts
9-12 noon Instruction/Drills/Conditioning
12 noon Lunch (included in camp fees)
12:45-1:40 Rest time in dorm with other campers
2-5:00 pm Tennis Instruction
5:00 pm Parents pickup camper at courts